WELCOME TO CIRCLE "C" CAMPGROUND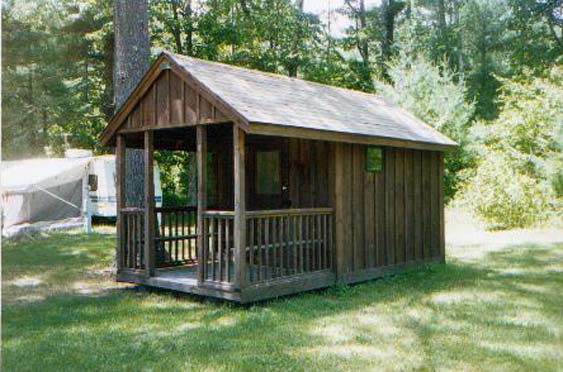 Cabin Information
Circle "C" Campground has two rental cabins. The cabins are one room rustic cabins that have wooden bunks and a counter, and no electricity or water. These cabins sleep five and are conveniently located near the bathrooms. The cabins are essentially like tent camping, and for your comfort we recommend bringing air mattresses. You must bring your linens (pillows, towels, bedding, etc.) and anything else you may need to make your stay more comfortable. Pets are not allowed in any of our rental cabins. There is a two night minimum stay in all cabins.
Cabins are $50.00 per night, or $300.00 per week.
Holiday weekends are $55.00 per night.
Cabins are also subject to Connecticut tax per night.
This rate is per family unit: Mother, father, and unmarried children living at home. All others must register and pay a guest fee. Only one family is allowed per cabin, or a maximum of 4 adults. All cabins have a fire ring and picnic table on the site. Reservation and refund policies for cabins are the same as for regular campsites.
Please note that rental cabin check-in is 3:00 p.m. and check out is 1:00 p.m.